Now that the weather is warming up and the days are longer I find myself craving salads. This is one of my favourite summer salads because its fresh, light and healthy. It makes quite a large amount so its perfect for BBQs or having a weeks worth of healthy lunches.
One of the staples in my vegan diet is quinoa. Quinoa is naturally vegan and gluten-free and contains iron, B-vitamins, magnesium, phosphorus, potassium, calcium, vitamin E and fiber. It is a complete protein and comprised of all the essential amino acids which is extremely important in a plant based diet.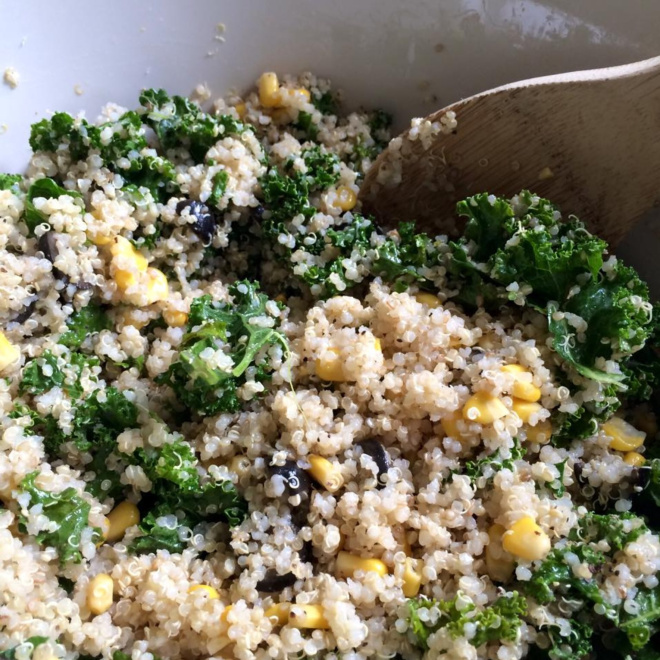 Sweet Corn and Kale Quinoa Salad
Ingredients
1 bunch of kale
2 cups quinoa
1 can corn*
1 can sliced black olives
4 tbsp olive oil
1/2 cup lemon juice
4 cloves garlic
Salt + pepper
Instructions
1. Cook quinoa according to package directions
2. De-stem the kale and rip into bite sized pieces
3. Once quinoa is cooked and cooled add corn, olives and kale
4. Combine olive oil, lemon juice, salt & pepper and garlic
5. Add dressing to salad an hour before serving and massage well into kale
6. Enjoy!
Notes
Once local corn is available this would be amazing with BBQ roasted corn. Simply char on the grill, remove the husk and add it to the salad.